Every day is pencil day at The Spendy Pencil, but in the United States, March 30th is National Pencil Day. A special day for pencils? Yes, please! I love my pencils and over the years have accumulated quite a collection.
Whether you're doing rough drafts, homework assignments or creating works of art, pencils are a forgiving medium—as long as you aren't using the pencil grip of death with a #6 pencil. But a light hand and gentle erasing means you can rework your concept until you have it just right.
Humans have been using mark-making tools since… we figured out mark making could be useful, right? From sticks, stones, clay or charcoal from the fire, if we can use it to communicate an idea, it's useful.
The modern pencil emerged with the conte crayon developed by 18th century, French artist Nicolas-Jacques Conte when he combined graphite with clay, making it stronger and more versatile. The crayons are still used by artists today. The familiar wood pencil with a graphite core and rubber eraser on the end was patented by Hymen Lipman 1858.
My Favorite Pencil
I have a huge collection of pencils. Buying a pencil is my go to when I'm feeling stressed. Let's not examine what having a large collection of pencils means for my stress levels.
My favorite pencil is the Mars technico 780 mechanical pencil. I think mine is pretty old now because the ones on the website are black and have a lead hardness indicator. Mine is blue and very basic. It's my favorite pencil for two reasons:
1) thick lead. Most mechanical pencils have a very thin lead and I spend more time getting the perfect amount of lead sticking out from the pencil because I keep snapping the lead than I do getting anything done.
2) sharpener. Instead of an eraser on the end, there's a little knob that comes off which you can use to sharpen the lead like chalking a pool cue. I always seem to forget my pencil sharpener so having one on the end is super handy.
Looking through my sketchbook and files, I realized I haven't been doing as much pencil work as I used to. I found these illustrations I did for Drawlloween 2018:
Rat Enjoying Candy Corn
Drawlloween 2018
By Lori Ono
The umbrella is type of yokai called a kasa-obake, basically an umbrella monster. It's actually supposed to have an eye. The rat well, the only thing I love about candy corn is how it looks. I love how satisfied the rat looks. I might feel like this after I eat a really nice cinnamon bun.
Colored Pencils
I grew up calling them pencil crayons. Fellow Canadians, remember Laurentian pencil crayons? I always wanted the 60 pack. Never got them. History Canada has a great thread on the history of these iconic Canadian school pencils. My favorite brand is anything soft. I like Crayon D'ache and Holbein but I think Iro Jiten has a lot of beautiful colors but they are a bit hard for my taste.
I have a huge collection of pencil crayons (who am I to stop calling them that now?) but looking through my work I realized I don't have a lot. I know that I started doing more pen and ink work (inspirations, Edward Gorey, E.H. Shepard and Sir Quentin Blake).
Anyway, I want to show some cool work using colored pencil. A lot of people do photorealism with colored pencil. There's a lot of amazing work and technique. But I want to celebrate one of my friends, Michelle Zacharias, who uses colored pencils for her abstract art. Check out this gorgeous image from Michelle's Pollution series. She has a number of pieces in this series and it's worth checking them out.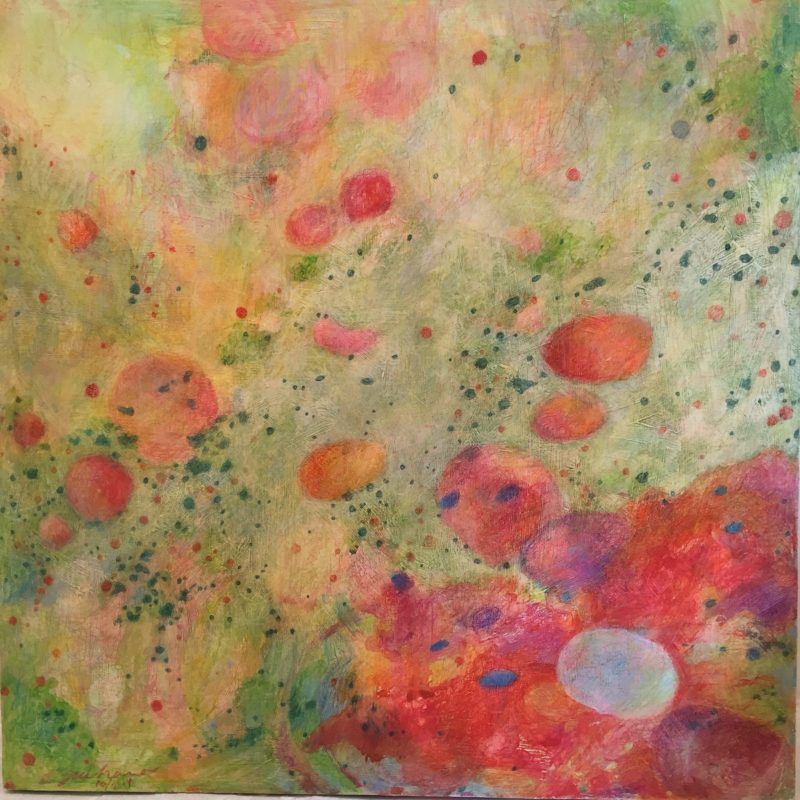 This is from Michelle's series Pollution.
Spring Diaspora 春離散; 2014; Coloured pencil, watercolour, and gesso on wooden panel 色鉛筆や水彩; 57 x 57 cm (H x W); Private collection

Photo courtesy of the artist.
What's Spendy Now?
The Water Rabbit
This was my New Year's card for 2023. This is the year of the rabbit. I read that each year a different element is assigned and this year was water. With the 5 elements, the next water rabbit, will appear in 60 years.
I drew this completely on my iPad with the Apple Pencil.
I named this blog The Spendy Pencil because of the Mars technico pencil but also becuase my camera was my mark making tool and it was spendy. But now I have a new spendy pencil—an Apple Pencil. I don't know if I like drawing with it as much as regular graphite pencils or colored pencils. I feel like my hand control is not great on the screen, and I already have the paper-like film on my screen. I use an Intuos tablet as well. It seems to have just a bit more friction. I like that it's easier to hit the back button if you make a mistake. Mostly, I like that I don't have to worry about photographing the artwork and struggling to get the photo to look the same as the original.
One thing I'm excited about using an Apple Pencil is for editing writing and marking up a PDF instead of printing out paper. Does it work? Sort of. I'm still more excited by the idea than the result. My handwriting with the Apple Pencil is much worse. A lot worse. I do like that I'm saving paper so I keep trying.
Still Analog
I love my tech but I'm still mainly an analog person. Along with all my pencils, I have my pile of used notebooks and an even bigger pile of notebooks waiting to be used. I can't wait until National Notebook Day! I'm feeling inspired to get out my sketchbooks and work on some pencil drawings.
What's your favorite pencil? Do you have a pencil horror story? Did a pencil ever save your life? I want to hear about it!
Happy National Pencil Day! I hope you remember your pencil and use it's power for good.